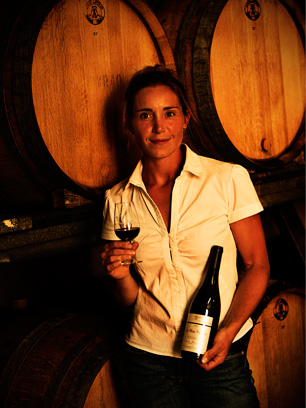 An exceptional terroir
Mas Sylvia is an estate that lies on the terroir of les Baronnies, nestling in its natural setting, unusual for its colours, its relief and its scents.
Here in Drôme Provençale, Sylvia Teste and her family have perpetuated the practice of mixed farming. This know-how that has been in the family for generations is a veritable hymn to the love of the soil.
Mas Sylvia's philosophy
The philosophy of Mas Sylvia is to preserve the environment in which it is situated. Helped by a protective Mediterranean climate, we respect the soil, the water and the natural surroundings in accordance with the principles of sustainable viticulture.
Mas Sylvia tills the soil, restricts the use of œnological products, and its practices, from grape to glass, are chosen for their beneficial effects.
Portrait of a lady of passion
Mas Sylvia is set to music by Sylvia Teste, the owner of the estate, who combines a degree in oenology with a passion for the art of vinification.
After her long studies and her initiatory journeys in the southern hemisphere to learn the creation of wines, this young lady returned home to make her childhood dream come true. She painstakingly created her first vintages with seemingly innate expertise, and made Mas Sylvia the rising star of les Baronnies.
Using her terroir as a source of inspiration, she relies on her family and generously offers us what she has inherited: terroir and passion.